Book of Basics
Products and Platforms
Over the years the Nutanix Platform capability set and services has grown substantially. Over the years this has evolved to simplify and abstract virtualization, automate upgrades and operations and much more. This section will cover the current portfolio and partnerships. NOTE: refer to the Nutanix website for the latest portfolio and offerings.
Over the years as the product portfolio has grown, rather than talking about products, I'd rather focus on the results and the journey towards achieving those. The following steps cover the customer "journey" and results Nutanix can help them achieve.
Step 1: Datacenter Modernization (Core)
Core includes the foundational Nutanix products facilitating the migration from complex 3-tier infrastructure to a simple HCI platform. AOS provides all of the core services (storage, upgrades, replication, etc.), Prism provides the control plane and management console and AHV provides a free virtualization platform (NOTE: you can also use ESXi and Hyper-V).
Core capabilities include:
Core Platforms (HCI)
Storage Services
Virtualization
Centralized Management & Operations
Upgrades
Replication / DR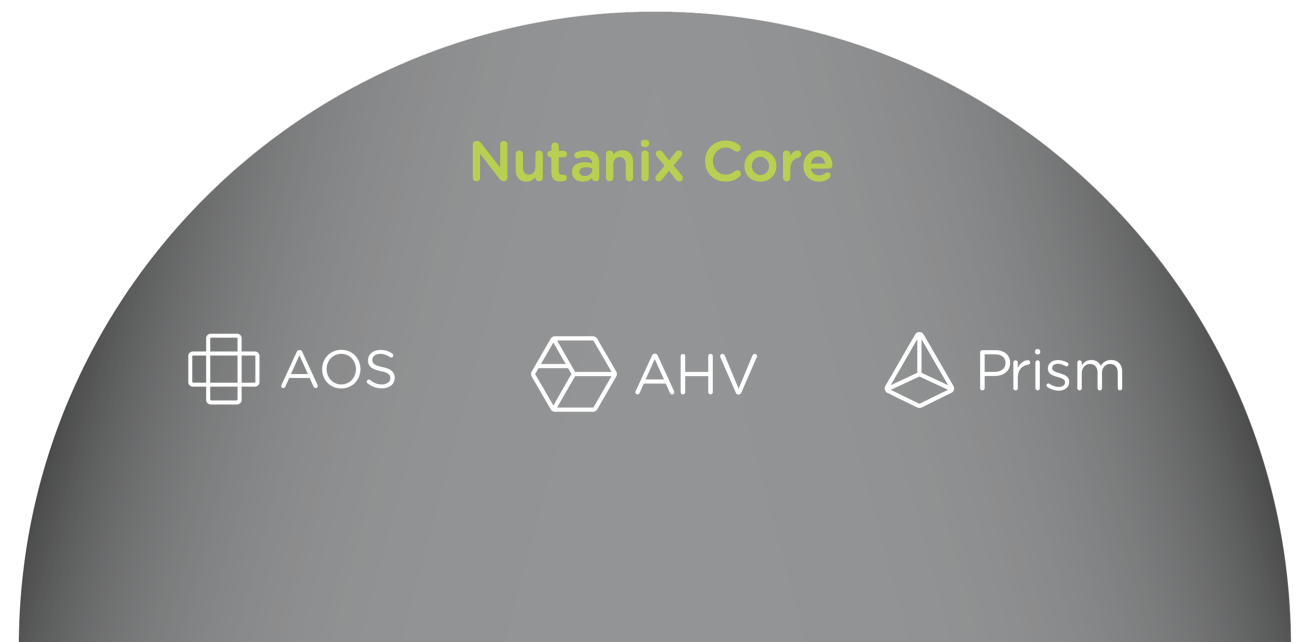 Products Ecosystem - Core
Step 2: Enabling Private Cloud (Essentials)
Essentials is focused on providing the capabilities to enable Core infrastructure to be consumed like a private cloud. Flow provides network segmentation and security, Files provides file services and Calm provides self-service, quotas and orchestration capabilities.
Essentials capabilities include:
Advanced Analytics & Anomaly Detection
Automation & Orchestration
Self-service Portal (SSP) and Quotas
Microsegmentation
File Services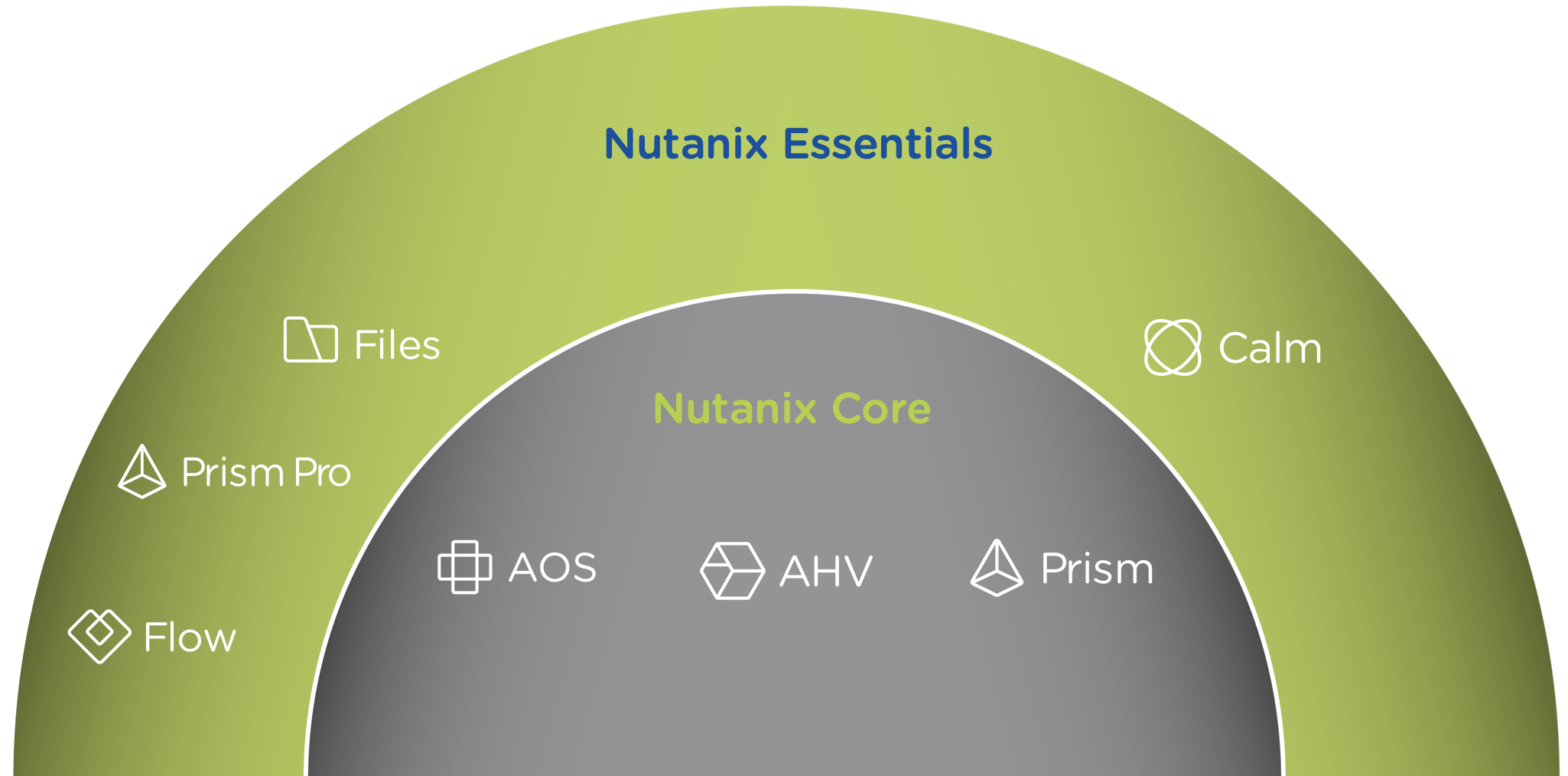 Products Ecosystem - Private Cloud
Step 3: Enabling Hybrid Cloud (Enterprise)
Enterprise is focused on providing the ability to migrate workloads between clouds and cloud services. This includes features like Beam which is focused on cost governance and compliance across cloud and on-premise deployments as well as other cloud services like Frame (DaaS) and Xi Leap (DRaaS).
Enterprise capabilities include:
Policy Driven DR / Run-book Automation
DRaaS
Hybrid Cloud Cost Governance & Compliance
Desktops As-A-Service (DaaS)
Database As-A-Service (RDS)
Kubernetes / Docker Services
Object Storage
Block Services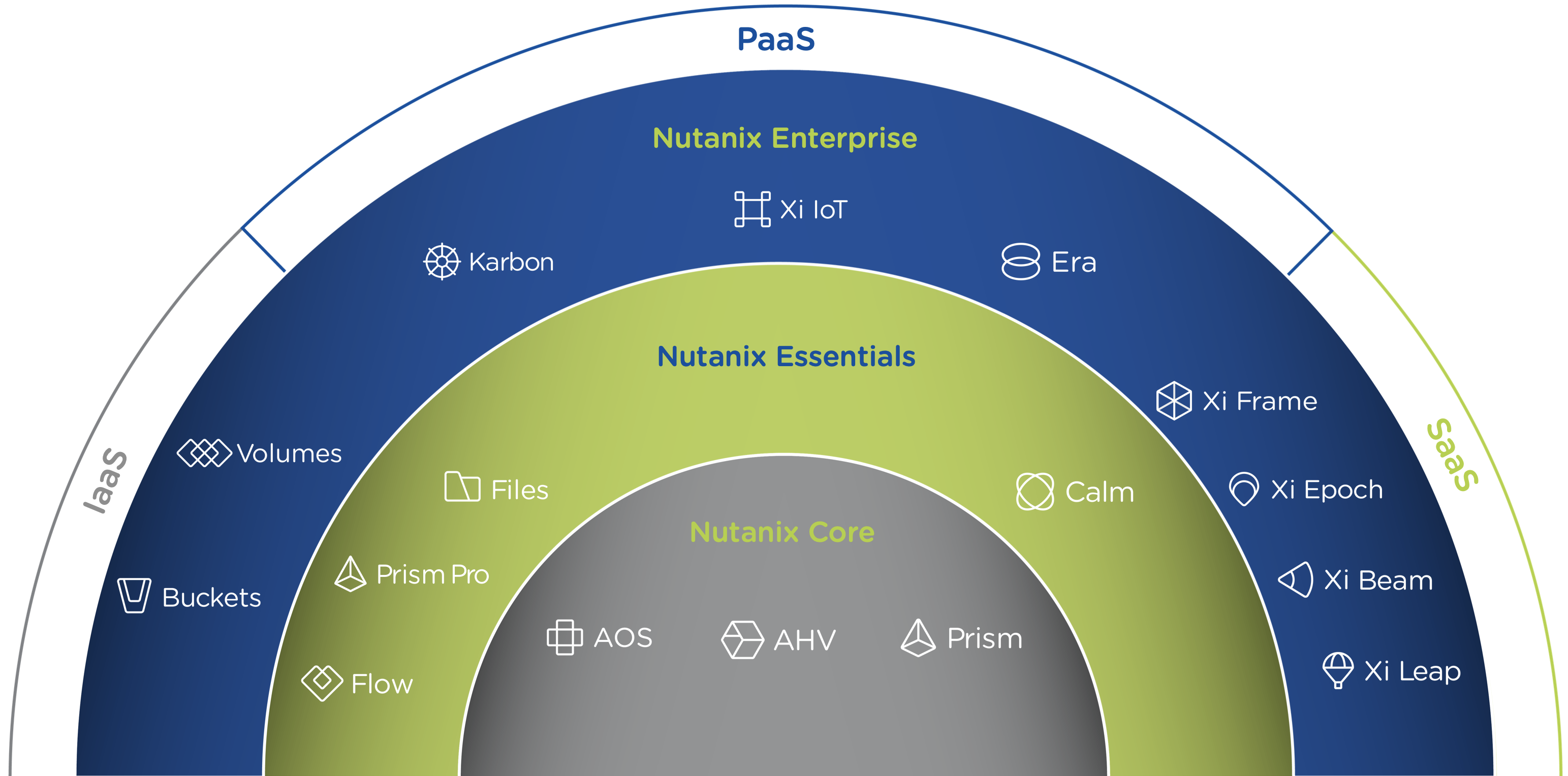 Products Ecosystem - Hybrid Cloud
Platforms
Nutanix currently supports the following platforms:
Nutanix Appliances
OEM Appliances

Nutanix on HPE ProLiant DX
Nutanix on Lenovo HX
Nutanix on Fujitsu XF
Nutanix on Dell XC
Nutanix on Inspur InMerge

Third-Party Server Support

Nutanix on HPE Apollo
Nutanix on Cisco UCS
Nutanix on Intel Data Center Blocks
Nutanix Tactical and Ruggedized platforms on Klas